August Fireworks Show Coming To Animal Crossing New Horizons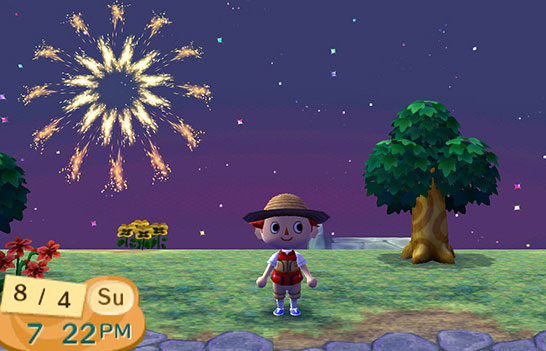 While most of yesterday's Animal Crossing hype was understandably focused on the swimming update announcement, we wanted to look ahead a little towards the next Animal Crossing: New Horizons event!
As seen at the very end of the Summer Update Wave 1 update announcement video released yesterday morning, a second wave called Summer Update #2 will be arriving during early August.
Those fireworks in the background almost certainly represent none other than the famous August Fireworks Show, a yearly series of events that have been in every Animal Crossing game since Animal Crossing: Wild World back in 2005.
Originally borne out of a replacement for the real-world July 4th Independence Day holiday when Wild World went on a holiday removing crusade, the firework shows in August have stuck around as a series staple in later games even when they featured proper holidays again.
The fireworks show took place during every Saturday night beginning at 7PM in Wild World, and every Sunday night in both City Folk and New Leaf. Therefore it seems likely the Fireworks Show event will occur every Sunday night during August in Animal Crossing: New Horizons too!
This event definitely had its most fully featured version in Animal Crossing: New Leaf though, so we'll be focusing on that edition of the event for the rest of this article.
As the name obviously implies, beautiful fireworks were shot high into the sky over your town each night starting at 7PM. What's more though is that by showing a custom pattern to Isabelle prior to the start time, you could customize the firework designs seen in the sky throughout the night!
With how much the artist community has embraced Animal Crossing: New Horizons' better than ever before custom design features, we'd love to see how fans would make use of custom fireworks in the sky this time around.
Speaking of Isabelle, speaking to her during the August Fireworks Show could get yourself one of four special glowing Bopper headbands including Bulb, Flower, Heart, and Star! These items are incentive to show up every Sunday too, since you can only get one per week.