2K19 Rating Updated! Buy 2K19 MT & Get Your Favorite Players
2K19 has updated the player rating, now it's time to buy some nba 2k19 mt for getting your favorite players.
6kgold.com offers cheap nba 2k19 mt coins for all consoles, we have many good 2k19 mt suppliers, full stock, fast delivery.
And if you want to buy / sell 2k19 mt, feel free to contact us via live chat, our customer service is 24 / 7 online.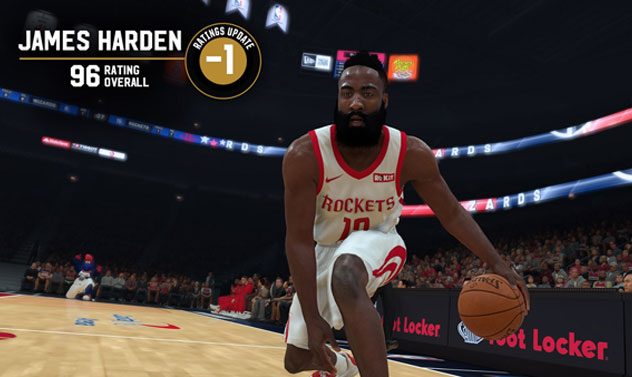 Giannis Antetokounmpo: 96 OVR (+1)
James Harden: 96 OVR (-1)
Kyrie Irving: 92 OVR (-1)
Karl-Anthony Towns: 91 OVR (+1)
Bradley Beal: 88 OVR (+1)
Andre Drummond: 87 OVR (+1)
Chris Paul: 87 OVR (+1)
Clint Capela: 87 OVR (+1)
DeMar DeRozan: 87 OVR (+1)
Devin Booker: 87 OVR (+1)
Zach LaVine: 86 OVR (+2)
Jrue Holiday: 86 OVR (+1)
DeMarcus Cousins: 86 OVR (-2)
Danilo Gallinari: 84 OVR (+1)
Deandre Ayton: 84 OVR (+1)
Jayson Tatum: 84 OVR (-1)
Kyle Lowry: 84 OVR (-1)
Bojan Bogdanovic: 83 OVR (+2)
Lauri Markkanen: 83 OVR (+1)
Jamal Murray: 83 OVR (+1)
Kyle Kuzma: 83 OVR (-1)
Draymond Green: 83 OVR (-1)
Trae Young: 82 OVR (+3)
Derrick Favors: 81 OVR (+1)
Brandon Ingram: 81 OVR (+1)
Gary Harris: 80 OVR (-1)
Derrick White: 79 OVR (+3)
Kelly Olynyk: 79 OVR (+2)
Kelly Oubre Jr.: 79 OVR (+1)
J.J. Redick: 79 OVR (-1)
Marcus Morris Sr: 79 OVR (-1)
Gordon Hayward: 79 OVR (-1)
Dwight Powell: 78 OVR (+2)
Jabari Parker: 78 OVR (+1)
Ricky Rubio: 77 OVR (-1)
Terrence Ross: 77 OVR (-1)
Tim Hardaway Jr.: 77 OVR (-1)
Landry Shamet: 76 OVR (+1)
Frank Kaminsky: 76 OVR (+1)
Joakim Noah: 75 OVR (+3)
Allonzo Trier: 75 OVR (+3)
Luke Kennard: 75 OVR (+3)
Mitchell Robinson: 75 OVR (+2)
Cheick Diallo: 75 OVR (+2)
Robin Lopez: 75 OVR (+1)
Rodions Kurucs: 75 OVR (+1)
Tyler Johnson: 75 OVR (+1)
Kris Dunn: 75 OVR (-1)
Zaza Pachulia: 75 OVR (-1)
Jeremy Lin: 75 OVR (-1)
Kevon Looney: 75 OVR (-1)
Maurice Harkless: 74 OVR (+2)
Harry Giles: 74 OVR (+1)
Kevin Knox: 74 OVR (-1)
Garrett Temple: 73 OVR (-1)
Justin Holiday: 72 OVR (-1)
Ryan Anderson: 71 OVR (-1)
Damion Lee: 70 OVR (+3)