Ultimate TOTS! Buy Coins For The Best of The Best Players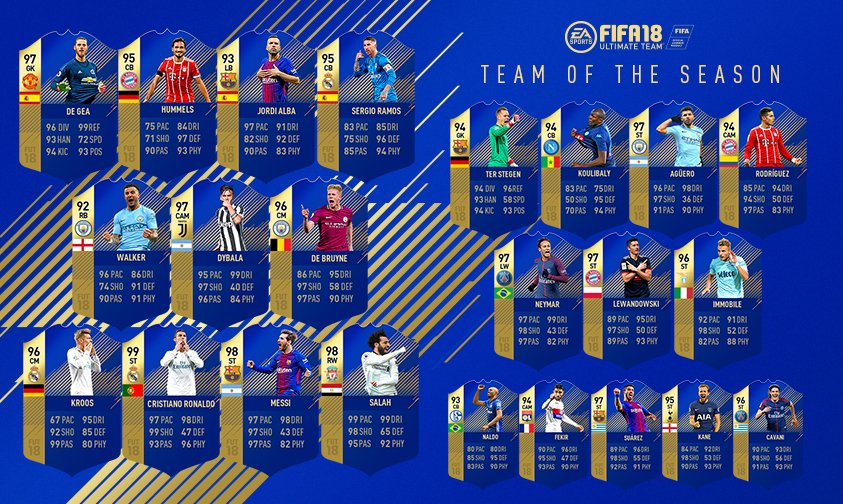 Did you miss some of your favorite TOTS players when their league squad was released? You'll get another chance to snag the best Team of the Season player items - as part of the Ultimate TOTS squad.
Meet the best of the best from the past season:
STARTING XI
David De Gea, GK, Manchester United
Mats Hummels, CB, Bayern Munich
Jordi Alba, LB, FC Barcelona
Sergio Ramos, CB, Real Madrid
Kyle Walker, RB, Manchester City
Paulo Dybala, CAM, Juventus
Kevin De Bruyne, CM, Manchester City
Toni Kroos, CM, Real Madrid
Cristiano Ronaldo, ST, Real Madrid
Lionel Messi, ST, FC Barcelona
Mohamed Salah, RW, Liverpool
BENCH
Marc-André ter Stegen, GK, FC Barcelona
Kalidou Koulibaly, CB, Napoli
Sergio Agüero, ST, Manchester City
James Rodríguez, CAM, Bayern Munich
Neymar, LW, Paris Saint-Germain
Robert Lewandowski, ST, Bayern Munich
Ciro Immobile, ST, Lazio
RESERVES
Naldo, CB, FC Schalke 04
Nabil Fekir, CAM, Olympique Lyonnais
Luis Suarez, ST, FC Barcelona
Harry Kane, ST, Tottenham Hotspur
Edinson Cavani, ST, Paris Saint-Germain
Buy FIFA 18 coins at 6kgold.com, if you want to open the Ultimate TOTS pack to get these players, enjoy the low price and fast delivery, our 2.0 trade method will keep your account safe, don't miss it!